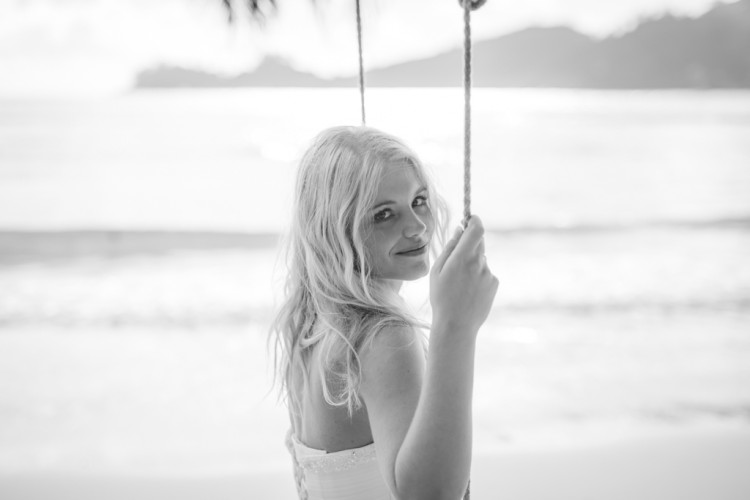 Wedding photogapher at Seychelles
I was back as a wedding photographer in the Seychelles
When I was in Seychelles the first time as a wedding photographer, I did not even know in which direction which island is. Now that I was the fifth time as a photographer in Seychelles, I take my wedding couples to the most interesting places to let them enjoy an unforgettable experience and a real wedding dream.
My wedding couple
They say that there are no good or bad couples. That's true! I meet my couples always openminded. Your wedding is the highlight and I as a photographer an important part of this ceremony. Just on the other side of the world, in the Seychelles, it is even more important to have a companion who knows what happened and above all knows what impressed. Pia and Martin were a perfect couple for me, they were completly cool because they realized that I know what happened and I will do my best to give them a dream wedding in the Seychelles. So we ended up to a big rock that I think is one of the most beautiful places on Mahé and it had made up my mind totally to one day get a couple there. As you can see in the pictures, it was worth it :)
My trip to the Seychelles
As usual I film a lot of scenes with the phone, tell a little bit of what I have experienced and share it with you on my Youtube channel. Here you see a few small scenes from my trip, unfortunately this journey I did not have so much time on video, but a small amount of material I got together :)

The Wedding
The ceremony took place on Mahé,at one of my favorite beaches Baie Lazare .
The Implementation of the ceremony was realized by "Wedding in Seychelles" that came up once again with an excellent decoration!
Later, after champaigne and cake, we sneaked along the beach, catched a few scenes and then we went to Chez Batista, a guest house on Takamaka Beach.

When the main course comes, I leave them alone. So they can fully enjoy their day :)
The After Wedding shooting we made a few days later. We went to several spots and enjoyed the day! :)
But talked enough, here you get the images: